Responsible leadership is integral to who we are and how we innovate.
---
01
Accelerating Transformation Through Agility and Disciplined Governance
---
02
Empowering Diverse People and Pathways
---
03
Investing in Health Equity and Our Communities
---
04
Intentional Environmental Stewardship
01. Accelerating Transformation Through Agility and Disciplined Governance
We designed the Vant model to scale responsibly and unlock strategic advantages.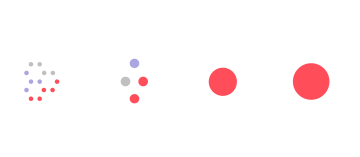 Governance advantages enabled by the Vant model:
Creating nimble, entrepreneurial Vants
Vants operate similarly to independent biotechnology companies where each management team is focused on its respective mission and is economically incentivized to maximize value through Vant-specific equity grants. Each of our Vant teams is built with deep relevant expertise to ensure successful execution of its particular development strategy. The Vant model is designed to facilitate rapid decision making and calculated risk taking, by empowering, aligning and incentivizing Vant teams around the outcomes of their specific products or product candidates.
Allocating capital to maximize R&D efficiency
We apply an objective, rigorous decision framework across the drug development process designed to ensure resources and capital are continuously directed towards programs we believe have a higher probability of success and away from those that fail to meet our internal hurdles. We centralize capital allocation decisions at the Roivant level, while distributing operational decisions to the Vants, allowing us to strategically deploy capital in high growth areas, regardless of potentially competing operational priorities.
Maintaining a diversified pipeline with various risk profiles
We have built a broad and differentiated pipeline that includes a commercial drug and several drug candidates across different therapeutic areas, phases of development, modalities and geographies. This approach limits our exposure to several concentrated scientific and biological risks and allows us to pursue multiple innovative hypotheses across our portfolio as we seek to develop therapies for patient populations with high unmet need.
FDA approvals since founding
positive Phase 3 trials since 2019
Wholly owned commercial launch
02. Empowering Diverse People and Pathways
Our human capital strategy strives to support the ambitious mission at Roivant. We take pride in enabling our employees to pursue diverse, upwardly mobile paths that are both linear and non-linear.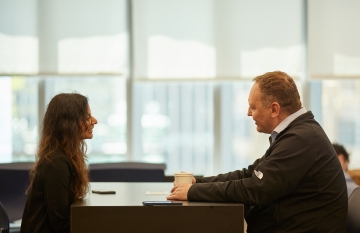 ---
96% of Roivant employees who responded to our employee survey stated they are optimistic about the future of our company.
---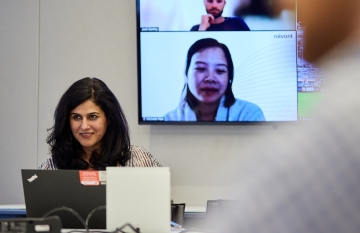 ---
93% of Roivant employees who responded to our employee survey stated that they either "agree" or "strongly agree" that they are proud to tell others that they work at Roivant.
---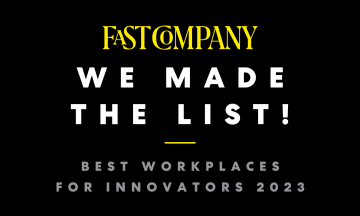 ---
Roivant was #25 on Fast Company's Best Workplaces for Innovators list, and winner of the Science and Tech category.
---
Human Capital Objectives
Our human capital objectives include sourcing, recruiting, retaining, and developing our existing and future employees. We believe we can achieve our human capital objectives by implementing the following approaches:
01
Strategic recruitment and development efforts
Hire diverse, multidisciplinary talent across seniority levels with backgrounds represented from industries within and outside of biopharma with an in-house talent acquisition team
Unlock unique career progression across Roivant and Vants through "Vant mobility" and offer unparalleled leadership opportunities for employees through the Vant model
02
Investment in early career development and diversity
Invest in early career diversity by recruiting robust Roivant Analyst (RA) cohorts composed of recent college graduates with representation from top private and public institutions
Encourage top diverse talent to enter the biopharma industry through Roivant/Roivant Social Ventures' Diversity in Pharma summer internship program for current PharmD candidates
03
Competitive incentives and benchmarking
Offer highly competitive short- and long-term incentives through both Roivant and Vant equity programs and meaningful performance-based bonuses
Undertake rigorous analysis in partnership with third parties to ensure best compensation practices including internal and external benchmarking and yearly gender pay gap analyses
Embracing Diversity
At Roivant, our goal is to improve human health by rapidly discovering, developing and delivering innovative medicines and technologies to all patients. Our success is predicated on attracting and retaining top talent, generating new ideas and promoting an open and collaborative culture.
We embrace diversity across all dimensions and levels of the organization, and we strive to ensure every employee is supported in reaching their full potential. We seek to hire motivated people with diverse backgrounds, identities, experiences, and skillsets. As of July 2023, among full-time employees at Roivant and Vants, 47% were female, 53% were male and 36% identified as being from diverse racial and ethnic groups. Among Roivant's board members, 2 out of 8 directors are female and 1 out of 8 directors identifies as being from a diverse racial or ethnic group. We are committed to fostering an inclusive culture where all employees are valued, respected and empowered to create value for patients.
Diversity, Equity and Inclusion (DE&I) Steering Committee
Our DE&I committee is comprised of a diverse set of employees across Roivant and led by Roivant's CEO. Committee members actively promote engagement among our employees by implementing company-wide unconscious bias training, supporting the growth of our employee resource groups (ERGs), and identifying community engagement initiatives.
Facilitating Inclusion and Belonging through ERGs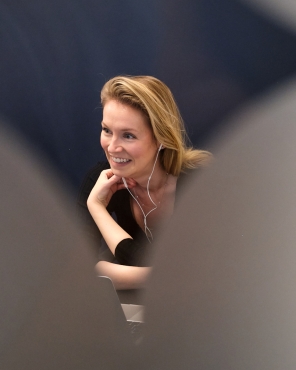 Women@Roivant
Develop the next generation of Roivant's women leaders while building, engaging, and strengthening internal and external communities.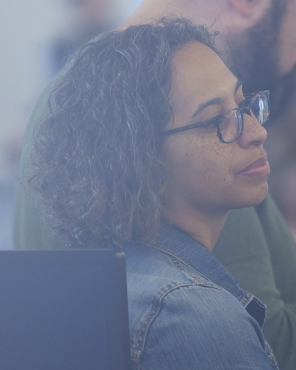 BIPOC
Promote and celebrate Roivant's cultural diversity, provide a supportive community and serve as a haven of belonging for Roivant's BIPOC community.
ROI-GBIV
Foster education and career growth, awareness of LQBTQ+ perspectives, and enhance our diversity recruitment and retention efforts.
Fostering a Transparent, Connected and Growth-Oriented Culture
CEO all-team newsletters
Small group roundtables to encourage feedback
Biannual employee 
engagement survey
Learning and development platform with company wide courses and self-directed learning
Tuition reimbursement and annual professional development stipend
Community and connection lunches with the Leadership Team and community-building events
Recruiting and Retaining the Brightest Minds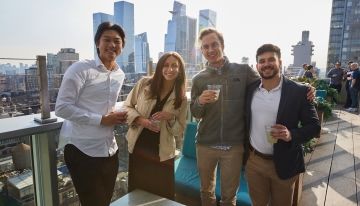 We recruit talent from various industries, including biopharmaceuticals, financial services, technology and consulting and emphasize cultural alignment and diversity in skillsets and perspectives.
Roivant's in-house executive search firm provides bespoke sourcing and high-touch end-to-end recruitment processes across Roivant and the broader Roivant portfolio to meet our unique hiring needs and vision for disrupting the healthcare industry.
Offering Highly Competitive Short- and Long-Term Incentives
We offer competitive salaries, regularly review compensation practices and analyze the equity of compensation decisions for all employees. We also offer participation in equity programs, including an employee stock repurchase program.
03. Investing in Health Equity and Our Communities
Roivant Social Ventures: Advancing a New Model of Corporate Social Responsibility

Roivant Social Ventures (RSV), a 501(c)3 social impact organization created by Roivant in 2020, envisions a future where every person is born with the right and ability to access medicine and medical care.
RSV partners with innovative companies, institutes and organizations to achieve its three Core Commitments: Global Equitable Access to Medical Technologies, Transparent Access to Research Data and Clinical Trial Diversity. We believe RSV's public charity model can more effectively drive systemic social change due to how RSV aims to generate substantial social returns and reinvest financial returns.
Approach
Invest in early-stage companies with technologies that have the potential to make medicines more accessible for underserved patient groups.
Leverage Roivant's resources 
and talent to counsel social entrepreneurs at healthcare-focused startups to maximize their likelihood of success.
Embed Roivant's drug development model into academic institutions, while providing fellowship and internship support to expand diversity at the highest levels of our industry and in clinical trials.
RSV is pioneering solutions to unmet needs and to ensuring global equitable access – and this is reflected in every aspect of its programmatic work. RSV offers a deep bench of healthcare experts through its Board of Directors and Advisory Board. Roivant also encourages employees to volunteer their time on RSV projects throughout the year. Approximately 10% of Roivant employees donated their time and talent to RSV in 2022.
Giving Back to Our Communities
Roivant also gives back to the communities where we live and work. We partner with local nonprofits that are driving more equitable access to essential services and provisions among impoverished communities. These organizations have included the following:

04. Intentional Environmental Stewardship
Environmental Management
System policy
Partnership with Revivn to repurpose and recycle our electronics and IT materials and related toxic waste
Our offices are equipped with waste management services, recycling, and energy/electricity savings
Additional Information
Visit our 'For Investors' site to see our SEC filings and corporate governance documents